Eric Scorsone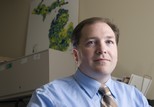 Click on the image to view a larger or high-resolution version.
Detroit bankruptcy, emergency manager law and local government finance
Extension specialist, State and Local Government Program
Department of Agricultural, Food, And Resource Economics
College of Agriculture and Natural Resources
Contact at: (517) 353-9460 or scorsone@msu.edu
Expertise:
An expert in city and state government finance issues -- including those in the city of Detroit -- and the national credit crisis. Previously, Scorsone was economist for the Colorado governorís Office of State Planning and Budget and senior economist for the City of Aurora, Colorado. He can speak to local government public finance; intergovernmental cooperation and consolidation; local government fiscal health; and community economic development.
Additional information:
Report on the unfunded costs of retiree health benefits in Michigan's muncipalities http://msue.anr.msu.edu/resources/municipality_legacy_costs